Martin Dudgeon (1953) – Memories of Holt School, Whittingehame House c1966-70
Interviewed by Pauline Smeed
Holt School was a boarding school for boys. It was situated in Whittingehame House, built originally for James Balfour and later inherited by A.J. Balfour, who served as Prime Minister from 1902 to 1905. He died in 1930 and the house was used for various purposes until in 1963, it was sold to the Holt School for Boys, which moved through from Lockerbie in 1964.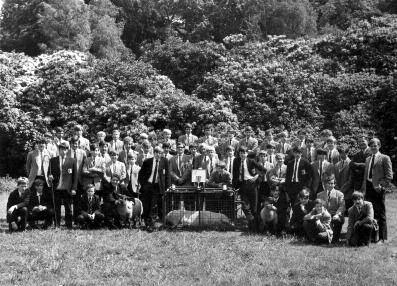 Holt School Young Farmers' club.
We knew that Whittingehame House was Lord Balfour's country house, built I believe around 1905. It was quite overawing going to a huge country house at such a young age, but it was pleasant too I think. I was 13 when I went but luckily I'd been away to school before that. My earliest recollections are of going for long walks, around by Stoneypath Tower, taking cricket bats and catching pigeons – I remember walking back past the old Whittingehame curling pond near a disused farm and doing stupid boyish pranks like rolling the curling stones down the hill. I can still see them there; knowing how much they're worth I think "God, what a waste!"
The boys came from all over. There were a lot of colonial children from Hong Kong, a lot from Africa, and a lot of farm children from farms in the Borders, like myself. We had a young farmers' club in the Borders. There were a few sons from the Foreign Office, army children from Germany etc. I went in about 1966 or 1967 and was there until about 1970 I think, till I was 17½. It was quite enjoyable and I still keep in touch with a few of them.
I always remember when I was young, walking to church at Whittingehame every Sunday. At the time we had the Moderator of the Church of Scotland as our minister. I remember walking past Whittingehame Tower and nipping away to the big yew tree by the Tower where they hatched the plot to kill Lord Darnley, as I think the legend goes. It is a most amazing tree. The branches reshoot themselves. I remember being taken with this tree.
There would be about ten or eleven teachers. Most of them lived on the premises. A few travelled in. When I went, the headmaster was a Mr Witheroe. He came from Jardine Hall, where the school was originally in Lockerbie. Sadly this school, Jardine Hall, had closed. Our teachers came from all kinds of walks of life, in fact there were a couple of 'old boys' who came back to teach. There were some good teachers and some bad teachers. Mr Reid, the headmaster, who took over from Mr Witheroe, was actually quite a good head master and was very keen on sport.
On a typical day we used to start at around 6am for cross-country. We ran down the front drive and along this big walled lane. Lord Balfour's private road used to run over the top, like a tunnel. We went round by Clint, back into the woods and the back drive. Then there was breakfast. We'd have three or four lessons before lunch and, after lunch I think there were two lessons.
Then there was rugby, football and athletics in the summer. The athletics track was down at the front of the drive, on a bit called the Haugh. It was well marked. They were always good days down there. We had three rugby pitches, a cricket pitch, and a tennis courts in the woods. We were very well catered for sport. There were always lots of outward-bound things to do. We had a sports day at the end of term and at the end of the summer term there was a prizegiving for the academic pupils
There was teatime, a couple of lessons, then we used to have a late supper but I think they changed that in my last term. There was prep at night when we had to sit, supervised and were not allowed to talk. We did all our work and then usually went to bed, at about half past ten in the senior school. I remember getting up at weekends and going to odd parties in the village and to see people we knew in Whittingehame. We never got caught so did quite well there. We had organised dances, when we used to ask Dunbar Grammar School and occasionally some school in Edinburgh – they were always wild nights. At the dances we had Alex Harvey and Nazareth. A band from Tranent used to come. The lead singer had a psychedelic mini. I used to see it parked in Macmerry.
There was a big old panelled dining room, which would be the original dining room with lifts coming up from the kitchens. I remember it was old fashioned. The food wasn't too bad – better than the first school I went to. It wasn't too bad an atmosphere, not as Dickensian as my other school. Oh yes there were cold showers in the morning! One of my earliest recollections was having to do PT for being caught doing something. I was in the snow just in my athletics kit and that was hard, in the back courtyard with the 'sadist' prefects taking it out on the younger ones. They thought it was great fun, I remember that vividly!
Luckily for uniform, it was long grey trousers; we weren't all in shorts at 17! There was always a blazer, collar and tie, and black shoes. The blazer was dark blue but you could wear your rugby tie. Usually we wore grey shirts but when we went away to rugby we would wear white shirts to create a good impression! The smallest dormitories would sleep about six, going up to about twelve to 14 for the biggest ones. The building was over three floors so they were quite spaced out. The seniors had their own rooms up in the Gods of the place where there were obviously maids' quarters at one time.
I also remember going up on the roof as well as in the attics. The attics were really creepy but the roof was a great place to sunbathe. It was always lead lined and lovely and warm.
Art was never quite one of the school things. Music was very basic. I can't remember anyone getting any music although there were odd pianos and things. They did do lessons and someone came in for that. We had common rooms and they were called 'common rooms'! The older ones had 'studies'. I remember in one of the studies there was supposed to be a mark on the ceiling which was made when one of the maids was murdered by a footman. He had fallen in love with her and she'd gone off with someone else. In the evenings there wasn't much time for free time. At weekends we had free time. There would only be one or two weekends home and the summer.
Occasionally we had parents or prospective parents coming round. I just went home maybe one or two Sundays per term. And back on the train in the morning
Most of the staff lived in. A few travelled. I remember an engineering man who came from Stenton to take us for engineering and mechanics and I remember a German master who was called Herr Koch. He Hespoke with a thick German/Austrian accent all the time and there was some madcap chemistry master who appeared for one term and then disappeared for some time. Apart from the matron, I can't remember any ladies teaching us. I remember May Ingram being very good at drama. She was the matron and her husband taught physics.
We used to come down to Dunbar to parties and to the Playhouse cinema and to go to Greco's for ice creams. We went to the pool for swimming galas a couple of times. We tended to go to Haddington more as it was slightly closer. I remember going to the East Lothian County Show and seeing the pigs that the young farmers had. It was always a good day out as we used to get in for nothing and it was great fun.
I remember the walks especially – up at Biel House, camping up at Nunraw Abbey, and seeing the Brothers there. We used to have to ask the Brothers to get our milk in the morning and they would never speak and they would just take your pail and fill it up. We found this strange. I remember when just before they went up to the new Abbey we found a door open. Thinking there was no-one there, we opened up this door. We turned the corner and we found this window with a bald headed monk who looked out! It was terrifying – we turned and ran!
I remember going deer shooting in the early mornings. They used to look for volunteers to go beating, towards Christmas time.
I can still see the Inglis Green Laundry lorry taking the washing away to Edinburgh. They came twice a week. Everything was labelled. At the backyard, we used to get the Aitken's Lemonade lorry too. The poor man. If he came in between lessons, bottles used to disappear from the back of the lorry. Some of the more enterprising boys just filled up the empty lemonade bottles with water and I always think how many pubs got whisky and water instead of lemonade! We'll never know. The funny thing is, I met one of the drivers later, four or five years ago. He said he remembered coming to Holt's School and he used to have to guard his lorry! The oil lorries were always there too. It was expensive to heat.
There were about 85 to about 100 boys there and when the school closed the numbers had gone right down. They'd spent a lot of money on language laboratories and equipment etc. A new block was built, all in cubicles.
Down in the bowels of the basement there was a caretaker/handyman called Mr Cockburn and there was a safe there. The door weighed a ton. Obviously Lord Balfour used this as a big strong room and I can still see the door with these huge locks and wheel. The caretaker's workshop was inside this.
I remember the headmaster saying that he blamed the Yom Kippur war as starting in Whittingehame House. Lord B signed the papers for the state of Israel in his country house in East Lothian and this split the Arab nations. It was done in the library and so he always put the war down as having started here.
The school ethos was more about team and character building and sport than academic. This was the main reason for sending boys there. In those days it was relatively cheap. I think it was only around £340 for the whole year. By the time I left Holt's it would be around £240 per term. There were obviously a lot of agricultural people or farmer's sons. Nowadays there is no way a farmer would be able to afford it.
Discipline was not too strict compared to some. There was corporal punishment, the cane, but not as bad as my last school!'
I keep in touch with around half a dozen people, as a lot of farmers who went are down in my area. I believe there are some things posted on the 'Friends Reunited' website. Some of the foreign students went back home. One went to Zimbabwe and started up the first mobile phone company there. I heard that he's now had it taken off him.
Two of my really good friends were from the same class. One was from Zambia or somewhere like that and he was on holiday in Berwick and went to my cousin's farm on an open day. He's now a Thames pilot and takes barges round the Thames estuary. We still have odd dinners for the Old Boys in the George Hotel in Edinburgh. Numbers vary from 30 to 40. The last one was about two years ago. Mr Reid, headmaster, goes. Mr Reid kept the records and still teaches but is just about to retire.
Martin now lives near Berwick and looks after his family farm. He has two teenage children, ages 19 and 16 years. He is also interested in local history and assists with his family's antiques business.