Giles Weaver (1946) – Greywalls, Gullane 1950s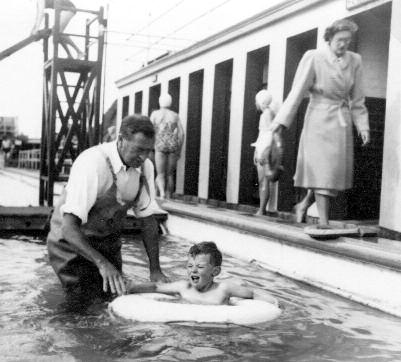 Giles learning to swim with Mr McCracken at North Berwick outdoor pool
I was just two years old when my parents started Greywalls on its life as an hotel – April 1 1948. The family (I'm told) wondered if this enterprise was indeed an "April Fool"! My father was a retired soldier with no job and my mother had inherited this large "holiday home" with no use for it. Neither had any experience of hotel management!
… my eldest brother, Nicholas was then 11 years old.
In 1947 Greywalls was completing its war service as a Polish forces hospital. My mother gave the hospital notice to quit by chance one month before the Nationalisation of Hospitals Act (creating our National Health Service) came into force. Had she been later, it would not have been possible to reclaim the property at all.
In 1948, the Open Golf Championship was played at Muirfield (Henry Cotton won), which helped put Greywalls on the golfing map. The Horlick's family butler, Old William, came out of retirement to 'unpack the house' as it was he who had supervised its 'putting away' when requisitioned by the military for the war! Thus the furniture and linen were preserved and reinstated.
I can only recollect one family summer holiday away in all my childhood in the 1940s and 1950s. There weren't many bedrooms to begin with because the family still lived in the house. Colonel and Mrs Weaver used what are now rooms 16 and 18 as their bedroom and private sitting room, Room 8 was the day nursery, No. 9 (with me in it) the night nursery, Nicholas had No. 11 up in the attic, and my elder brother, Martin, No. 10 in the corridor.
They ran the hotel – father day-to-day, mother inspiration, decoration and garden – for 30 years.
Extracted from the Greywalls website, www.greywalls.co.uk and reproduced here by kind permission of the proprietor of Greywalls, Giles Weaver