Jane Murray (nee Bunyan, 1964) – Dunbar 1970s & 1980s, schooldays and her experiences of the Duke of Edinburgh Award Scheme
We moved to Dunbar from Berwickshire in 1968 when I was four. I attended a playschool run at St Anne's church hall by my mother and Pearl Young. I can remember very little about those days, but I can remember starting my first day at Dunbar Primary School and our teacher Miss Hunter, reading books, learning to count using coloured rods of different lengths, Cassels spelling primer (which I still use with my own children) and the SRA reading scheme which came in a big box, 20 levels (wondering which level you would start at), colouring in the units as you worked through them and the excitement of being one of the first to start on the aqua, bronze, silver or gold levels!
Oh yes and being the milk monitor – bringing in the milk from the class room door and stabbing the silver foil on the bottles with a metal skewer, and hanging around the jannie's after school for an extra bottle.
Then there were the playground games – somersaults on the railings at the side of the mobile classrooms, with varying degrees of difficulty invented by ourselves including "the bat", hanging upside down like a bat until your ears felt as though they would burst. Swings round an upright pole with someone sitting on the step in front holding out her arms to make it more difficult; how we avoided casualties I'll never know. Playing sevens against a wall with a tennis ball, skipping, elastics, singing games like "the big ship sails on the Ally Ally oh", marries (marbles) and peevers (hopscotch) were other favourites. If you forgot your stone, it was difficult to play with a small piece of gravel, from the playground, but living nearest to the beach out of our gang, I usually had access to a good flat stone. Out of school we spent many hours playing various games of make believe and inventing our own sports and games on the east beach especially in the rock pools, in the grounds of the old cottage hospital and on the banking below the parish church.
As we grew older we ventured further afield – along the golf course to Whitesands and Barns Ness, to the tennis courts at Winterfield and out on our bikes to Spott, Stenton or Ossie Dean (Oswald Dean) – then the best source of frogspawn, although except one year, I was never allowed to have any – but how I loved watching the tadpoles develop in the school tank.
In the summertime we spent hours at the old Dunbar pool. There was always a race to see who would get there first in the morning, and who would have the lowest number season ticket! Although why I don't know as the water was always absolutely freezing, but we'd splash around until John Bradbury opened the café and have a hot pie, with brown sauce and hot lime juice to thaw out before going back in the water.
The only organised activities that I remember were the primary school rambling club, Red Cross cadets, swimming club, two evenings a week (in the summertime only) until the Dunbar outdoor pool closed due to sea erosion and then we went to Haddington indoor pool on the bus, brownies & then guides on Friday evenings and the parish church youth club which was on Wednesdays – we played badminton or table tennis and there was a tuck-shop. You could only go to youth club if you were a youth fellowship member – that was on Sunday evenings and although I wasn't parish church, Mr Chalmers let me be a member because St Anne's [Episcopal] didn't have a youth group. With no cinema in Dunbar after I was about seven, the monthly parish church film club was always popular, the choice of films was trying to cater for all tastes and always each season there was a John Wayne film for the minister.
The Duke of Edinburgh Award Scheme
When I was 14 I started the Duke of Edinburgh award scheme at the grammar school.
I started with my bronze award in September of 1978. We had to complete four sections for each award, over a minimum period of six months at bronze, twelve months at silver, and 18 months at gold level. At both bronze and silver level my service was done with the Junior Red Cross, completing certificates in first aid and home nursing. At gold level I combined doing my service with my guiding work, as I was training to be a Young Leader with the 1st Dunbar Guides, and gaining that qualification, over two years, was counted as my service for D of E. During that time I helped with badge work, games and crafts at the unit meetings and also had to do the accounts for six weeks, as well as attending a monthly meeting with other Young Leaders throughout the county.
For the interests section at bronze level I spent six months doing various handicrafts. For silver I joined the school badminton club, which I had to attend every week for six months, taking part in training, competitions and learning about the running of the club. When I commenced the gold award, I went back to doing handicrafts, concentrating on needlecraft, a hobby I still enjoy and I hope to do a City & Guilds course in it one day.
For the fourth section girls could choose to do either a "Design for Living" course, or a physical activity. At bronze level, a group of us did a six week course entitled "Making the Most of Yourself", learning about skin care, make up and choosing fashions, and we each had to produce a scrapbook at the end of it.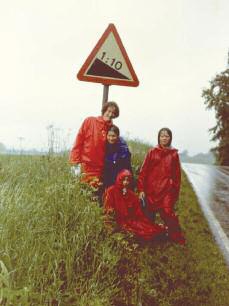 At silver and gold levels, I chose to do the physical activity; choosing hockey at silver, and then fencing at gold, joining the school group set up by Peter Anderson, who taught biology. I gained my Scottish schools grade 2, and thoroughly enjoyed learning this ancient sport.
For the expedition section, one has to attend some basic training sessions first, which covered food preparation, the use of stoves, the use of maps and compasses, as well as being able to read timetables and knowing how to summon emergency aid. This was to prove useful on our silver expedition, when one of the group collapsed with heatstroke and exhaustion in the middle of rural Perthshire!
For the expedition, at each level, you had to do a practice hike and then a real one and also keep records of what you did. For bronze award we walked from Lime Tree Walk along the Coast to Ravensheugh Beach, a distance of seven miles, and took a picnic tea. For silver level, our practice hike was at Innerwick, staying in the old school hall overnight and, when we woke up on the second morning, we discovered that there had been about a foot of snow, which made walking through Innerwick Glen difficult. I remember sheltering under the railway viaduct at Dunglass, trying to get a primus stove to light so we could have hot soup for lunch! A group of five of us went to Melrose, staying at the youth hostel there for our main expedition. We had to complete 15 miles, over two days, with one overnight stop. That weekend was spent mostly walking through feet of mud, as it never stopped raining.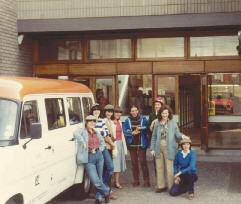 At gold level the fun really began. We had to do two hikes, each lasting five days and four nights away, each covering a total of 50 miles. In May of 1981, as soon as we had finished our Highers, we did the first walk, staying at two youth hostels in Perthshire; Loch Ard and Trossachs; Miss Clunie (one of the school maths teachers and the girls' award representative) came with us, as did Edith and Barbara, who were the French and German assistants that year. They didn't do the walk, only provided us with support and encouragement in the evenings. We visited Inchmahone Priory, on the Lake of Menteith, and Bannockburn. The Queen Elizabeth Forest Park at Aberfoyle was also visited in a heatwave. As I said previously, we had, on that occasion, to summon aid. However, all went well, and ten days later we were off again. On this occasion the destination was the Lake District, with a walk of 50 miles from Keswick to Kendal. We also stayed in Longthwaite Youth Hostel, Grasmere and Windermere. We visited the Beatrix Potter Centre, Brockhole, and William Wordsworth's home at Grasmere. The weather was very mixed; we spent a lot of time changing from waterproofs to shorts and back again, but it was with a great sense of achievement that I crawled up the stairs in the youth hostel in Kendal. The hikes are difficult, they are also a lot of fun and one discovers just how resourceful it is possible to be. Also, one can surpass the limits, both physical and emotional, that one has previously accepted for oneself.
At gold level, the participant also has to spend four nights on a residential project, and do some sort of training for leisure or service projects, with other people. For this I went to Madesimo, in the Italian Alps, with a group of venture scouts, and learnt to ski, gaining the Italian ski school's one-star award.
The bronze and silver awards were presented at school but, in July of 1983, I went to the Palace of Holyroodhouse, to a garden party, where I met HRH the Duke of Edinburgh, and was presented with my gold award.
The Duke of Edinburgh's Award Scheme provided me with many opportunities to learn new skills and to improve ones I already had. The dedication of many leaders at Dunbar Grammar School made it possible for me to achieve the award, and my thanks to them. While engaged on the Duke of Edinburgh Award, I was also attempting to gain my Queen's Guide Award. Unfortunately, I didn't finish it for other reasons, but I am still involved in guiding and wear my gold award proudly on my uniform. Its distinctive design provokes much comment and some of our guides in Leeds have been thereby challenged to start on the award scheme for themselves, including my daughter Rachel who is now 14, a young leader with brownies and guides and about to start on the award herself.
On leaving school at 18, I trained as a nurse in Dundee. While living in Dundee I met my husband Lewis, a printer with D.C. Thompson's. We have been married for 16 years and are now living in Leeds with our two children Rachel (14) and Jonathan (12). I am still nursing part time for BUPA and my husband is the technical manager of a small family-run printing firm in Leeds.