Ian Gardner (1969 – Dunbar, 1970s)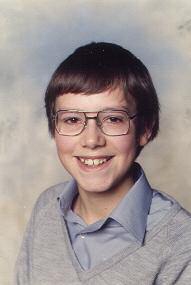 Looking back to my childhood in Dunbar, one item stands out which could well have introduced me to the tourism industry.
While I was in Primary 7 at Dunbar Primary School, I was selected to 'be' the voice of John Muir when he was a boy, for the audio-visual display at the John Muir House Museum, which was due to open to visitors for the first time. A script was prepared for the three voices (the narrator, the voice of John Muir 'the man' and myself) and we met in North Berwick to record our pieces, which would accompany a slide show of images of Dunbar and Yosemite. My piece of the script recalled Muir's early days in and around the town and I remember thinking then how much the streets had changed over the generations. My mother and I attended the opening of the museum and I remember a piper leading the procession from the Town House to Muir's birthplace and then the official opening by the American Consul General. The museum was furnished to reflect life when Muir had been born and lived there, and I got to know it well as I would visit on a Friday afternoon, after school, when mum acted as a volunteer. Her main duty was to welcome visitors and I was co-opted as a willing helper – especially willing as a visit to the sweet shop next door was always part of the afternoon's plan! I was surprised to hear the soundtrack still playing after several years and even more surprised when my wife told me that it was playing at an exhibition about Muir at Edinburgh's City Art Centre many years later.
It was good to be part of this project, which was a boost for the town, recorded John Muir's important achievements and was of interest to many visitors from near and far'.
Since growing up in East Lothian, Ian Gardner has developed a career in tourism and is currently marketing manager of the National Trust for Scotland. He is also chairman of the Association of Scottish Visitor Attractions and a board member of the Scottish Tourism Forum.