Kenneth Stevenson (1949) – Aberlady, then East Linton 1950s
I was born in Aberlady in 1949, which I can remember vividly, with the main street leading up to Edinburgh and down to North Berwick. Local churches figured in our lives, like St Adrian's, Gullane, St Andrew's, Prestonpans, and St Peter's, Musselburgh, where I was baptized.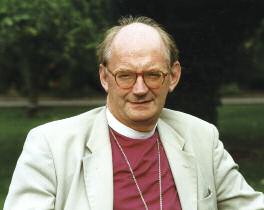 In 1954, the family moved to East Linton, where my father – an architect of a severely practical frame of mind – actually built a house (we lived in a farmhouse nearby for a year). I enjoyed the local school in the village for three years, until it was time to go on to Edinburgh Academy. I remember the atmosphere changing from school as an extension of village life to being the result of a journey – after Beeching's axe fell, a journey in a car rather than a train (which I much preferred). Social life revolved round friends and school, and also church – we went to St Anne's, Dunbar, where the Rector, Edmund Ivens, gave me a lot of encouragement, as I decided at an early age to become a priest, and that was unusual, and I was laughed at a bit at school. It was there, on Saturday afternoon in December 1958, that I was confirmed by Bishop Kenneth Warner, of Edinburgh. (I have been lucky with episcopal Kenneths – he was succeeded by Kenneth Carey, and when I went to be ordained in Lincoln Cathedral in 1973, it was by Kenneth Riches!)
What sticks out most in my mind? I have long been keen on walking, and the locals here in Fareham may well be used to me walking our two border terriers round the park twice each day. It's thinking time. For me in those days it was the large field on the other side of the river Tyne from Preston Mill, that was my stamping ground. The changing seasons and climates left their mark on the vistas I saw through the years. I can recall walking round the field one Christmas Day, in the afternoon, and seeing an incredibly beautiful sunset over the village, with reds and golds and dark blues mixing with each other, and St Andrew's Kirk clock striking three (or was it four?).
As Bishop of Portsmouth, I have a varied 'patch' – south-east Hampshire, with Portsmouth, Gosport, the Meon valley, and Petersfield; but also the Isle of Wight. Driving home from a summer evening confirmation service somewhere invariably brings other sights to see. And I'm always grateful for those occasions when, as on that Christmas Day, the scene is full of change, colour, dynamism, conflict, and peace.